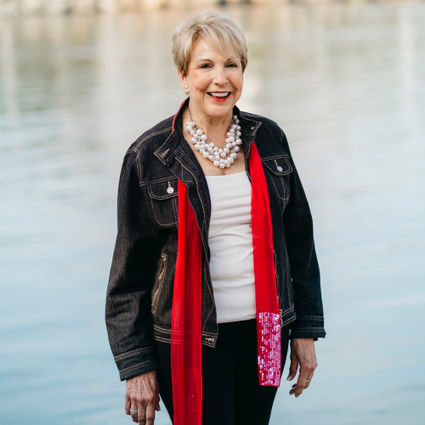 Pam Luckey
Associate Broker | DRE# 00751586
ABOUT PAM
Pam is dedicated to helping her clients achieve the American Dream of homeownership and financial security. She has a genuine passion for real estate and helping so many families in their pursuit of homeownership brings a sense of purpose to what she does. For over three decades, Pam has been making connections with clients and creating lasting relationships, while helping them build their wealth through real estate. She has helped clients buy and sell over 800 properties and feels very blessed to be a Real Estate . Pam's motto is: Be happy. Go Luckey!
Pam has been recognized as a top producer for many of the offices that she has been affiliated with during her accomplished career. The real estate business has always been so exciting for Pam because she really enjoys people and loves the opportunity of helping clients realize their dream of homeownership.
Pam is very active in the community and participates with a variety of volunteer associations. Being able to give back to the community is a way of life for Pam. She is a board member of the Fisher House Southern California at the VA campus. Overall, Pam enjoys working with clients and spending time with family and friends. She enjoys a good movie, reading a good book, and taking walks along the beach with her dog.
SPECIALITIES
GRI Certified
Property Specialist
Luxury Property Specialist
Buyer's Listings
Relocation
Property Management
Luxury Homes
Vacation Homes
College/University
First-time Home Buyers
High-End Properties
Historic Homes
Residential
Single Family Homes
EDUCATION

California State University-Dominguez Hills
Bachelor of Arts, Art History
California State University-Long Beach
Bachelor's degree, Art
CHARITY

The Fisher House for Long Beach Veterans Hospital
Steel Magnolias
The Stramski Center
National Charity League
Ronald McDonald House
WHAT OUR CLIENTS SAY ABOUT TYLER
"I am so fortunate to have Pam Luckey as my realtor! During the past two months she has helped me sell my home and purchase a new home! She was there whenever I needed her. Her Knowledge, and Expertise are outstanding! She is professional and friendly. She listened to me and kept me grounded during this busy time! I highly recommend Pam to help everyone with their realtor needs"
"I moved from LB to another state and leased my house for a number of years. I decided to sell the house this year and was concerned about the process due to having a family in the house. I thought about Pam Luckey because of the various mailers that came to the house while I lived in LB. I contacted Pam, told her about the family leasing the house, and said she would contact them to determine in they where interested in purchase. All the while, I'm across the country. Pam negotiated with the occupant family, kept me informed regularly. The family made an offer for the purchase, Pam indicated they where qualified, so I accepted the offer. Pam sent all documents to me electronicaly and told me what to expect. The entire process went very smoothly and the closing took place within a month of offer acceptance. For my experience, I highly recommend Pam Luckey. I did not have to travel to LB and Pam handled all negotiations. In my mind she is the epitome of a professional realtor!"
"Pam was efficient and pleasant throughout the process. When I needed assistance with the house and I wasn't able to get to the property myself she was able to take care of the situation easily and without hassle. This was my first property sale and went as smooth as I could possible imagine. Given that every aspect of the sale was new to me she explained the process so that I could understand what was happening and why. I recommend her to my family and friends."
"Pam Luckey has a causal demeanor and is easy to work with. She listens to the clients needs without any pressure. Her knowledge, expertise, and reputation gave her the ability to coordinate the timing of both selling and purchasing without much of a gap. I would recommend her to friends and family and use her again in a heartbeat!!"
"Pam is an efficient, responsive, professional agent who knows her local markets. She listens to her clients and finds the best options that suit their needs. I was fortunate enough to have Pam as my , and would recommend her to anyone."
"Earlier this year my wife and I decided to relocate permanently to Northern California to be close to the family. We bought a house in July, moved in early August, and put our home up for sale. Prior to moving we interviewed real estate agents to handle the property. We knew this would not be the easiest of sales so we wanted an agent who specialized in the area and had a proven track record. The house was 65 years old with a flat roof and none of the modern upgrades that most buyers would be looking for. That said, it was also a 4 bedroom 2 bath home, 1811 sq. ft., in the center of The Plaza area of Long Beach, close to El Dorado Park. We chose to list with Pam Luckey of Coldwell Banker. From the onset of the interview you could see that Pam was the right choice for us. She was calm, professional, discussed the market conditions against our property, and could develop a plan to meet our needs. She also understood that we would be 400 miles away and not in a position to deal with local contractors when issues came up. We executed the plan by pulling up the carpets exposing original hardwoods, painted all of the interior walls a nice neutral color, and staged the property. Pam's cadre of contractors on retainer did an excellent job in very short time at a very reasonable price. Property was staged and placed on the market. It took a bit longer to sell as the Feds raised rates in early September and property market values dropped. We went through a couple of offers that did not pan out but we adjusted our selling price to meet the current market estimates and eventually found a buyer. Home inspection did reveal a few issues we did need to correct but once again Pam's contractors were there to get it fixed and completed without our need to come south. This was a tough sale but the communication between us was excellent. She kept us constantly up to date as to the status of the sale and offered constructive ideas to improve the possibility of getting offers without deviating from the plan. Pam always answered our emails, texts, and calls. Escrow closed yesterday, and title was transferred. Our home of 34+ years is now someone else's to enjoy. I cannot thank Pam enough. If you are buying or selling a home, Pam Luckey is the professional you want to work with."
"Dear Pam, Thank you so much for being such a tremendous help in the process of buying and selling 3432 Roxanne Avenue. We really appreciate all the care and effort."
"Our family has had the privilege of dealing with Pam Luckey of Compass Realty several times over the years. Pam and her group have been extremely professional and are very knowledgeable. Our most recent dealing with Pam was the sale of an income property in East Long Beach. Since we live on the East Coast, this could have been a stressful transaction. However, Pam came through once again. Every detail of the transaction was addressed in a professional manner with little input required by us. We highly recommend Pam and her team, Tyler and Tessa for your residential realty needs."
"I've known and worked with Pam Lucky Since 2003. She has handled everything from the purchase and sale of a condominium, to representing me in a purchase in the peninsula. Pam is very knowledgeable and extremely professional"
"Over the last year, Pam Luckey has expertly guided me through the sale of my original residence and the purchase of a new one. Both transactions were very unusual with many strange twists. Pam's negotiating skills were responsible for clearing unexpected hurdles and keeping the process moving."